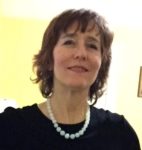 Marie Regis brings a presence of acceptance, compassion and deep listening to every  client, with the intention of supporting them in their individual journey. She sees all healing as happening on the soul and spiritual level as well as the physical.  She has had a daily meditation practice since the age of 22, and Qi gong for several years. She teaches these in her office and in Adult Education programs on Long Island. She has trained extensively in Clinical Meditation and Imagery and has found it especially helpful for people suffering from PTSD, anxiety, depression, addiction and eating disorders. Marie has found that a multi-faceted approach works well with many clients.
Optimum health is dependent on the harmonious relationships of body, mind and spirit. Marie supports clients in making lifestyle choices which will promote that process. She is deeply committed to helping others heal and fulfill their life's purpose.
Marie's education and training:  Marie graduated from the Massage Therapy program at the the New Center for Wholistic Health in 1991, and from the Classical Acupuncture program at the Swedish Institute in 2006.  Classical Chinese medicine- from Pre-Communist China –  includes powerful protocols to create physiological changes for healing the emotional body and the spirit. This program was designed and taught by Master Jeffrey Yuen, an 88th generation Taoist Priest of the Jade Purity Tradition and an internationally renowned scholar in Classical Chinese medicine.  She has been blessed to continue studying Chinese medicine and Taoism with Master Yuen for the last 16 years. She has taken in-depth courses with him in the use of essential oils, Chinese Herbology,  Chinese dietary therapy and Gem stone therapy.   Marie also has advanced training in Upledger CranioSacral Therapy and SomatoEmotional Release.  Marie is Nationally certified in Chinese Herbology by the NCCAOM,  To view Marie's resume please click here.
Yes! Im Interested In A Free Phone Consultation!
Is it safe? Does it hurt? Will I see results? Is it expensive?
The best way that I can answer your questions and concerns is to discuss it over the phone.  Please fill out the form below and I will get back to you as soon as possible.
(516) 455-2206
Mon-Fri 9am – 6pm
---